Everything Everything: Duet [RSD 7"]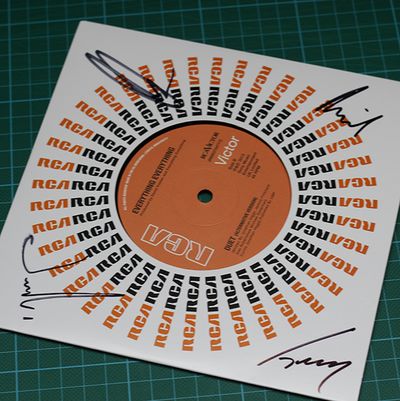 Yep, you read it right, Everything Everything went 'all out' for Record Store Day 2013 by taking the unprecedented step of scribbling on the cover of their latest 7" single, Duet. Okay, joking aside this maybe isn't the most impressive of the 'special editions' that were released for RSD this year (or ever), but at least they're making some effort for a good cause.
I've had the latest Everything Everything album, Arc, for a while now, and may well get around to giving it a proper write-up sometime soon, but I'll tell you right now that it's not so good as to give me a burning desire to tell everyone about it as soon as possible (as happened with recent records from Daughter and Deptford Goth). What Arc does have going for it is a set of killer singles, and Duet is definitely one of those.
Packed full of Everything Everything's signature blend of lyrical playfulness and melodic inventiveness, but this time with an orchestral backing with strong echoes of Cloud Bursting-era Kate Bush (or Viva-La-Vida-era Coldplay, if we're being cruel). With the introduction of the band proper, Duet builds to the sort of satisfying climax that is so beloved of those in charge of synching music for BBC documentaries. What makes this single worth owning, however, is the 'alternate' b-side version; an edit of the song that uses just the vocals and the string section. Whether this cut of the track is better than the album version, I can't decide, but it's really nice to hear an edit that has the courage to stick with a good idea and not dilute it at all.