Ian McCulloch: The Killing Moon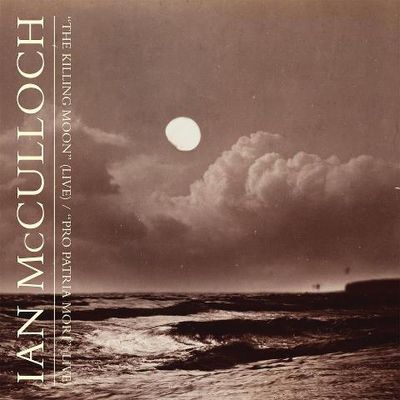 In May last year, Ian McCulloch — late of Echo And The Bunnymen — had some fun mucking about with a string quartet at London's premier venue for 'mature' rock musicians, Union Chapel. That concert was evidently recorded for posterity and is now seeing itself  released as a live album. To advertise the fact, and to show a little love for independent record shops, McCulloch has put out a nifty little 7" under the Record Store Day banner, containing two songs from that concert.
The b-side is the wearisome Pro Patria Mori; and never a more trite and clunky effort at songwriting will you ever come across. To hear McCulloch's ageing, gravelly voice strain through the oh-so-sophisticated refrain of "dulce decorum" is to look the sad fate of all over-the-hill-rockers-trying-to-be-relevant straight in the eyes. To hear this and not be sickened requires a stronger constitution than mine.
On the a-side, conversely, things are very different indeed. And not because of any difference in delivery or arrangement, either; the strings are as predictable as ever, and McCulloch hasn't changed his delivery at all. No, the crucial factor that marks the a-side as 'worth listening to' is quite simply the quality of the song. The Killing Moon is an all-time classic, and no matter how much dad-rock you inject into the guitar sound, there's no way on earth the opening riff can be anything less than one of the most exciting intros ever. Anyone who thinks Arcade Fire just plucked their sound from the ether would do well to go back to the original recording of this track. McCulloch can wear all the cheesy shades he likes, but he'll always be tied to the redeeming legacy of The Killing Moon.