Oh So Quiet: Oh So Quiet EP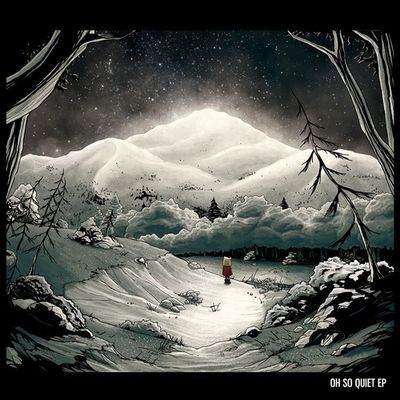 It's beginning to look like 2013 might be a good year for Kings of Convenience to make a comeback. I doubt they will, as they've been off the scene for a long time now, but most of the really good releases so far this year have a shade of the Quiet Is The New Loud philosophy that KOC honed into such a fine art in the middle of the last decade. None have been quite as definitively hushed and muted as KOC, but there's an unmistakable mood in the air that says this is a year for thoughtful, introspective music.
With a name like Oh So Quiet, this Guildford duo are nailing their colours to the mast from the get-go, but their eponymous EP has more depth and bombast to it than the name suggests. Things start of predictably enough, with caressed nylon-stringed guitar action and breathy, hushed vocals, but it's not too long before a full band rhythm section makes an appearance and we realize that we're not just dealing with a pair of bedroom musicians. If Oh So Quiet sound gentle and understated, it's very much a conscious choice on their part and not a limit that's been imposed on them by their surroundings. When they want to (for want of a better expression) 'rock out' they are fully capable of doing so.
The ease with which this band can switch from subtle acoustics to wailing indie-pop electric guitar lines and then back again is impressive, and lifts this EP above the morass of singer/songwriter types who attempt something similar. In the cadences and delivery of the female voice I'm reminded very much of Emily And The Woods, but where Emily fell down was when extra elements were tacked onto what was very much a solo show. With Oh So Quiet it's clear that the band that fleshes out this record is as much a vital part of the music as the singer/songwriters at the core of it.