Savages: Silence Yourself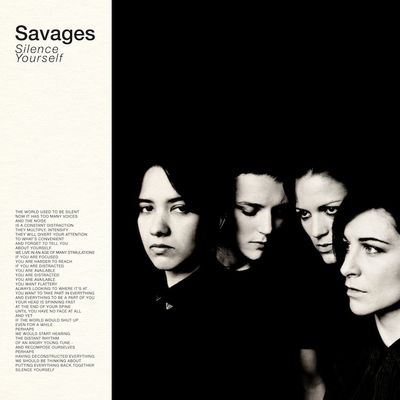 There are plenty of instances where I've been swept along with everyone else when the hype machine[1] rolls into town. For instance, everyone loves Chvrches, and I too love Chvrches. There are also a number of occasions where I've vehemently disagreed with popular opinion only to later have a change of heart and concede that, actually, all the fuss was justified. Everyone loved Daughter when I thought little of them, now I've turned full circle and can't get enough of them. The gist of my point is that my tastes are not all that different from the mainstream (and by 'mainstream' I mean the oxymoronic alternative mainstream; all that X-factor/pop-charts-nonsense can take a hike).
Where the blogosphere and I differ drastically, however, is on the issue of Savages. The consensus view – even amongst the select cadré of blogs that I read regularly and who's opinion I respect – seems to be that they're the best thing since sliced bread, and in all honesty I think their music is just plain awful. Their debut album Silence Yourself – which comes out on May 6th but can be streamed in full on the band's website already – is a hulking mass of early-eighties new-wave cliché and pastiche. There's no denying it's a strong aesthetic, and when taken as a set of ingredients it can produce wonders in the right hands. Savages, alas, are far from the right hands; their efforts sound clunky and derivative and are far from the sum of their parts.
2013 is proving itself to be a vintage year for indie music, with a plethora of fantastic singles, EPs, and albums released already. Why are so many people raving about Savages when there's a wealth of better music to be getting excited about?! It seems incomprehensible. My advice, then, is to steer well clear of Silence Yourself, and instead pick almost any other release of the past four months – you're guaranteed that whatever you choose will be many times better than this weak effort.
---